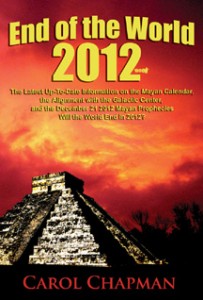 End of the World 2012:
The Latest Up-To-Date Information on the Mayan Calendar, the Alignment with the Galactic Center, and the December 21, 2012 Mayan Prophecies – Will the World End in 2012?
by Carol Chapman
Are you confused about 2012?
Do you wonder, "Will the world end in 2012?"
Do you need a straight, simple explanation of the 2012 prophecy?
If so, End of the World 2012 is made for you!
Author Carol Chapman sets out to find the truth about 2012. She travels to Yucatan where she interviews Mayan shamans including Daykeeper Hunbatz Men. Carol also talks with experts on the Mayan prophecies, such as the Director of Latin American Studies Program at Stetson University, Dr. Robert K. Sitler.
As Carol searches, she brings you a comprehensive, up-do-date portrayal of the latest archaeological discoveries of the Mayan prophecies as of September 2012. She also shares a glimpse into the fascinating world of the Maya through a Chichen Itza Shamanic Equinox Event and learns about the Galactic Center from astronomers.
Join her as she searches to:
Discover the origin of the December 21, 2012 date.
Learn if the Maya have end of the world prophecies.
Find out if the Mayan Calendar really ends on December 21, 2012.
Learn about other 2012 and End of World prophesies
She delves further into the 2012 phenomenon by talking with experts on the 2012 predictions in the psychic readings of Edgar Cayce and asks a Vedic Astrologer about prophecies of a 2012 awakening.
You will enjoy getting to the surprising truth. End of the World 2012 will answer your questions about the end of the world in 2012, the Mayan prophecies, and the December 21, 2012 end of the Mayan Calendar.
End your confusion! Get your answers in the End of the World 2012!
The Kindle has 30 color photographs. The paperback has 30 black and white photographs and is 160 pages long.
Amazon quick links: