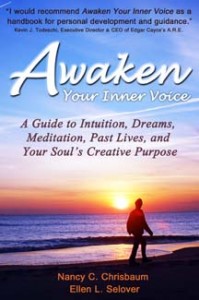 Here are some reviews of Awaken Your Inner Voice: A Guide to Intuition, Dreams, Meditation, Past Lives, and Your Soul's Creative Purpose by Nancy C. Chrisbaum and Ellen L. Selover
Kevin J. Todeschi
Executive Director & CEO, Edgar Cayce's A.R.E.
"Perhaps more than anything else Awaken Your Inner Voice presents the marvelous premise that there is much more to each one of us than a physical body. The authors, Nancy Chrisbaum and Ellen Selover, have a rich history with the Edgar Cayce material and other mind-body traditions. Working together they have essentially created a handbook for personal growth and development that explores everything from meditation, intuition and creativity, to working with spiritual ideals, understanding (and facilitating) dream guidance, and uncovering clues to your own past lives. Whether you are new to the study of your soul self or a longtime student of awakening consciousness, I would recommend Awaken Your Inner Voice as a handbook for personal development and guidance."
Julie Loar
Author, Goddesses For Every Day
"Nancy Chrisbaum and Ellen Selover have written a powerful and very practical guide for navigating the often unfamiliar realm of dreams, intuition and creativity.  This book is a wonderful map that will help the reader discover the riches that reside in this magical realm."
Susan Lendvay
Editor, Venture Inward Magazine
"What sets this book apart from many others about intuition and spirituality is its extraordinary depth, and the width of its scope, incorporating the teachings of eclectic schools of thought. It is more a soul journey that the reader is invited to take with two wise and spiritual women healers. Each brings a long history of dedication to learning and helping others with prayer, hypnosis, energy medicine, dream work, and past-life regression. I most appreciated the way they share their experiences, and those of people they interviewed, in a very honest and intimate way. They show, instead of telling, how to recognize your intuitive voice as a guide, and admit that it's something each person has to learn by trial and error. Practices and applications are offered with each chapter. Since Edgar Cayce said spiritual growth is best done in a small-group setting, this would a make an excellent study guide to go through with like-minded companions. Just reading this book is enlightening, but using its tried-and-true practices is what will bring soul growth."
Find out more about Awaken You Inner Voice.
Purchase the paperback or kindle, or read reviews on Amazon.